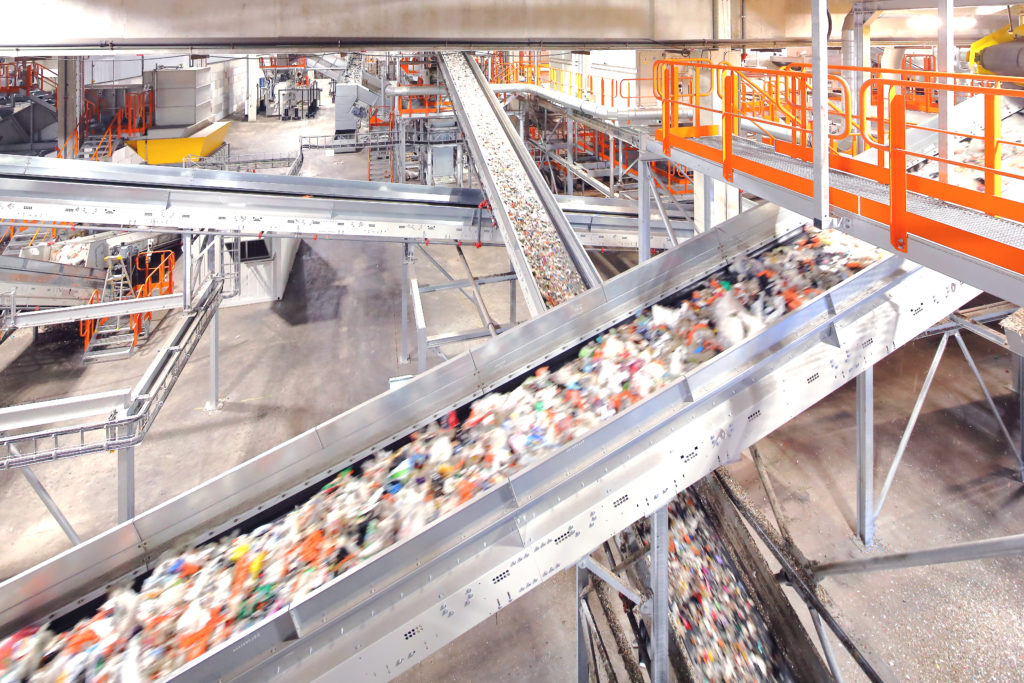 Fast-moving consumer goods industry
The Swedish fast-moving consumer goods sector (FMCG) has a chance to transition to climate neutrality while remaining economically competitive, but success will be dependent on developments outside the sector's control as well as developments beyond Sweden.

By 2045, market forces will drive sustainable FMCG production. Price, convenience, taste, quality, healthiness and experiences are still the most important attributes to customers and consumers making purchasing decisions, but sustainability has by now become a hygiene factor.
Swedish FMCG industry operations are completely fossil-free, having achieved their goal of net-zero greenhouse gas emissions. Energy-intensive processes and transports have been optimized and are running entirely on renewable energy. All packaging products are 100 percent fossil-free and recyclable. The collection and analysis of data throughout the value chain has facilitated the industry's successful transition to renewables, something which in turn will help spur competition among companies to develop best-in-class products.
The industry did not embark on the path to climate neutrality alone; the goal was reached by staying in tune with changes in the market and the industry as well as the introduction of new policies and infrastructure.
The spirit of collaboration is strong within the FMCG industry, both between fishermen/growers and manufacturers, as well as between suppliers and retailers.

The Swedish fast-moving consumer goods sector is composed of companies that sell food, drink, healthand self-care products, magazines, tobacco and specialty goods to retailers, restaurants and large businesses and households in Sweden. Its companies have a wide range of products, but also a variety of business models, and organise their operations in different ways and across different geographies. Many handle products from several categories. These companies use fossil fuels and affect the climate in different ways, and as such have different options for influencing the climate impact
associated with their businesses, depending on which operations they control and which they do not.
For the companies that sell food products, primary production – mainly agriculture and animal husbandry – generates the majority of their climate impact. Processing and production of these companies' goods generates a smaller part of their climate impact, via the energy used to power a range of industrial processes. The climate impact of the industry's packaging comes mostly from primary production – mostly production of petrochemicals for plastics, but also from the manufacture of the actual product packaging and the handling of waste (recycling, incineration). Transport of goods is done by rail and road, both upstream and downstream, and by sea and air for imported goods.
The industry's own processes and transportation can be climate neutral by 2035. In these cases the transition will entail replacing fossil-fuelled heat sources and cooling agents that have a climate impact, while continuing to improve energy efficiency and develop circular processes for waste minimization. The industry's processes are already effective today, and many are based on climate-friendly electricity and/or bioenergy.
To make the next steps possible the industry's roadmap recommends a comprehensive mapping of technologies and processes and their climate impacts at the company level during the period 2019-2025. During the period 2025-2035 100 percent fossil-free energy use and a 25 percent gain in energy efficiency should be achievable in Swedish production.
Sometime during 2035-2045 production should achieve climate neutrality and new efforts should be focused on waste minimization and circularity.
Within transport the industry acts primarily as a purchaser. If its companies are to be able to procure climate-neutral transport, the use of fossil fuels in road, sea, air and rail transport must be eliminated. In line with the industry's Transport Initiative, the roadmap recommends that all domestic transport – owned or ordered – should be fossil-free in 2025. The fuels in use should be based on sustainably produced raw materials, and the use of palm oil should be phased out.
During the later phases electric and self-driving transport will play a bigger role, and the industry should be able to place gradually stricter requirements on international transport over time.
Packaging that is optimized for sustainability should be fossil-free, recyclable and recycled to the highest possible degree, without leading to food waste. In line with DLF's Plastics Initiative the roadmap recommends that 100 percent of plastic packaging should be recyclable by 2022. At the same time that recycling increases, the industry will have to begin using more fossil-free packaging materials, and the roadmap sets a goal of all packaging being recycled or fossil-free by 2035. By 2045 all packaging materials – including recycled materials – should be fossil-free. A circular economy also requires a decrease in the amount of packaging in use.
The industry can also, in collaboration with the retail and restaurant sector, support the development of solutions that enable consumers to bring their own packaging. The industry cannot directly steer the choice of input materials, processes, and technologies in primary production, where most of its climate impact arises. For this reason it is essential that the industry develop and manage a product portfolio that drives emission reductions in agriculture and the production of chemicals and materials. A key to this development is data.
Shifting the industry's own processes and transport means avoiding bottlenecks in the provision of climate-neutral, sustainably produced energy.
Research and development are needed to ensure that new, sustainable packaging systems can meet hygiene requirements. A functioning market for recycled plastic must emerge, since the fast-moving consumer goods industry cannot make use of all recycled plastic fractions.
R&D in the area of feedstock-recycling is important in the long-term to ensure a clean 'new' plastic for use with food products.
The industry needs to be able to measure, compare and follow up its products' climate impact. A good deal of usable information already exists, but to deliver on the roadmap new knowledge and more and better data will be required.
A multifaceted policy effort and expanded collaboration across the entire value chain is needed if agriculture, animal husbandry, and production of chemicals and materials are to approach climate neutrality.
The EU's CAP (Common Agricultural Policy) needs to support the journey towards improved sustainability. An EU standard should be developed for climate data as well as common emission factors. The economics of agriculture should reflect the sustainability services provided, for example by compensating ecosystem services such as the sequestering of carbon in soil. Compensation should also cover the need for better climate data.
Financial support is needed in the area of plastic recycling. The industry has made investments in the first step – the sorting facilities. To deliver the next part of the recycling value chain – cleaning and granulation facilities – support from public financing will be needed.
The importance of increased investments enabling a faster transition to a climate neutral transport infrastructure can not be overstated. Long-term policies are needed to speed up the transition in Sweden.
2045: A fossil-free value chain