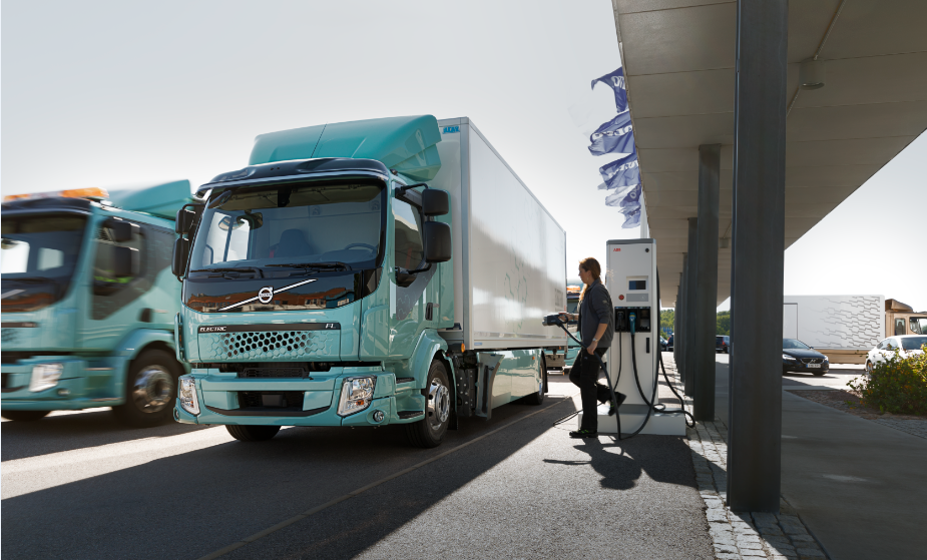 Automotive industry – heavy transport
Emissions from heavy transport (more than 3.5 tonnes) accounts for about a third of the climate emissions of road traffic. In total, this means that lorries and buses account for about 6.5 percent of Swedish climate emissions. The Riksdag has decided that CO2 emissions from domestic transport will be reduced by at least 70 percent by 2030 compared with 2010.
Targets in roadmap
2030*: 50% of new registrations of heavy goods vehicles are electric vehicles
2045: Vehicle fleet entirely fossil free
*The target was updated in 2021 to "50% a few years before 2030" as progress is faster than anticipated.
To implement the roadmap, the industry is working on:
greater transport efficiency, i.e. more efficient vehicles and more efficient use of vehicles.
higher proportion of biofuels, both low and high blends.
electrification of the vehicle fleet, mainly including batteries but also fuel cells run on hydrogen.
The industry organisation Mobility Sweden (formerly known as BIL Sweden) is responsible for the process of implementing the roadmap, which includes a low and a high scenario for the proportion of electric lorries. The scenarios are based on the plans and strategies of manufacturers plus the EU's criteria for vehicles. Mobility Sweden is working to achieve the high scenario, under which 50 percent of newly registered lorries over 16 tonnes will be powered by electricity in 2030.
Progress since the roadmap was launched
Electric buses and electric lorries are here!
The electrification of buses and lorries has soared in the past year. Electric buses were rapidly introduced in bus traffic. Just over 600 electric buses are currently on Sweden's roads. In autumn 2020, electric lorries were launched, which are now starting to be seen in the registration statistics. As at September 2021, 31 electric lorries, over 16 tonnes, have been registered.
Expansion of charging infrastructure
The Government and the supporting parties are budgeting just over SEK 1 billion in 2021 and 2022 to expand the charging infrastructure for heavy transport. The vehicle manufacturers highlight good access to charging infrastructure as the single most important success factor if electric vehicles are to break through on a broad front.
Increased research into electromobility
Within the remit of FFI, a partnership programme between the Government and the Swedish automotive industry, several major strategic projects have been launched to develop and demonstrate heavy transport solutions that lead to climate improvements. One example is the pilot project in which Volvo Lastvagnar and DHL are testing completely electric transport up to 60 tonnes in daily scheduled traffic between Jönköping and Gothenburg. Another project on electric transport in urban environments is being headed by Scania.
Support for electrification is currently divided across several government agencies. Support for the charging infrastructure, via the Klimatklivet initiative, is managed by the Swedish Environmental Protection Agency, while The Swedish Energy Agency is responsible for the climate premium for environmental lorries and the regional electrification pilot schemes.
The conditions and criteria for receiving support are often difficult to understand and the processing times are long. Many haulage companies are encountering problems managing several parallel application processes, with the result that applications are not made, inhibiting the climate transition. The different roles and responsibilities of government agencies are unclear and the levels of support are not adapted to competitor countries such as Germany.
There is still a lack of charging infrastructure for heavy transport. Due to EU rules on state aid, at-depot charging and destination charging are not included in the support now promised via the regional electrification pilot schemes.
If exception are not gained for this provision, there is a risk that development will be jeopardised. Today the electricity network also lacks capacity in several places to meet increasing demand for electricity and power.
Process owner: Mobility Sweden
Published: 2020
Contact
Emmi Jozsa
Mobility Sweden