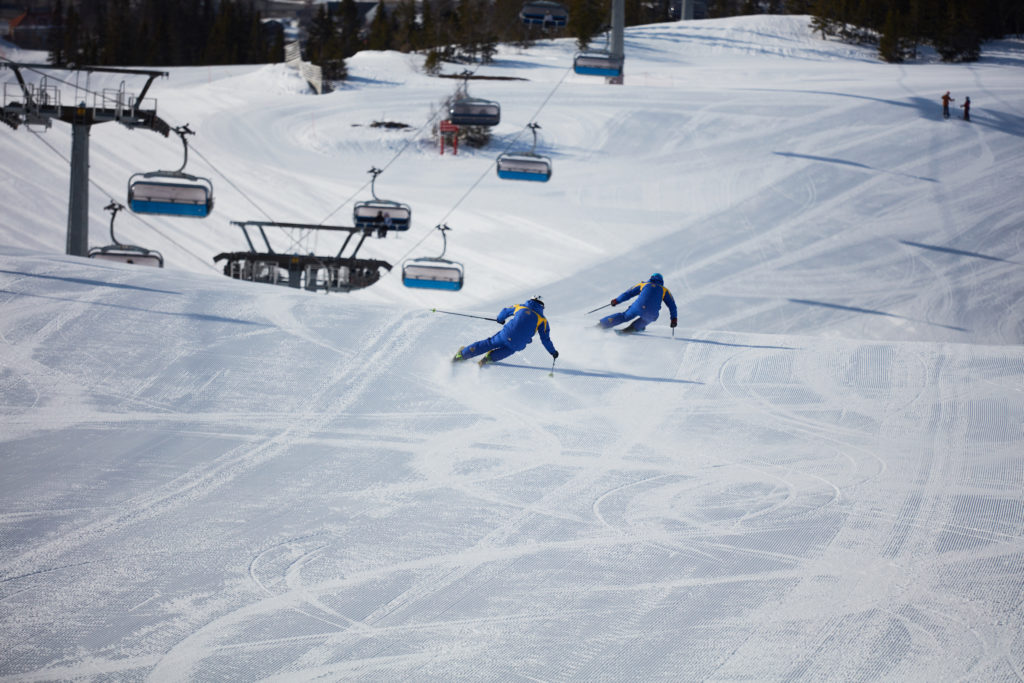 The Swedish ski resort sector is closely associated with an active outdoor lifestyle. Every year, two million Swedes go downhill skiing. Skiing is part of a growing fundamental industry. At the same time, it finds itself in the middle of climate change with the challenge of giving a true and fair view of skiing in the future.
The sector has been working to reduce its greenhouse gas emissions for some time. It is natural that the industry should be an active part of the profound societal shift to fossil-free fuel. The purpose of this roadmap is for the ski industry to adopt a unified approach, as effectively as possible.
SLAO, the Swedish Ski Areas Industry Association is an industry and interest organisation representing 200 ski resorts with operations in large parts of Sweden. The circumstances of the members are varied. The large resorts are found in or near the mountain areas. The smallest members often operate close to urban areas, frequently run as non-profit organisations.
In the mountain areas, the ski resort is often the engine of the local economy and proximity to a ski resort may be a pre-requisite for tourism in rural areas. Many young people get their first work experience in a ski resort. Such resorts are also arenas for sports and health for children and adolescents.
The ski industry is dependent on cold winters. A changing climate increases the likelihood of fewer days of natural snow, but increasingly efficient snow-making capacity is helping to maintain the length of the winter season. To ensure good skiing conditions, careful preparation is required through snow making, snow distribution and grooming of slopes.
All SLAO members have one or more ski lifts, ski slopes and snow groomers (perspective 1). Some also have hotels and cabin rentals (perspective 2). In the roadmap, ski lifts and ski slopes have been prioritised based on the members' ability to directly influence how they are run. Perspective 3, i.e. travel to and from ski resorts, is included to provide a holistic view of fossil-free skiing.
There are more than 800 ski lifts, 450 snow groomers, 1,100 snowmobiles and 5,000 snow guns in Swedish ski resorts. The fuel for grooming machines accounts for about 90 percent of the fuel consumption in the core business. The remaining 10 percent is used in snowmobiles and others.
Of the largest ski resorts, almost all use 100 percent renewable electricity for snow making and operating ski lifts. Snow-making technology has improved significantly since the 1970s when power consumption was approx. 7 kWh to produce 1m³ of snow. Today one seventh of that amount is needed.
For the 2019/2020 season, the total climate-impacting emissions from the core business of SLAO's members is estimated to be 7,500 tonnes of CO2e. In 2017/2018, the same figure was 12,000 tonnes of CO2e. A switch to the bio-fuel HVO100 in snow groomers has helped to reduce the total climate impact by
40 percent in two years.
The extent of the ancillary businesses (perspective 2) differs between the various resorts. Many have external suppliers, while others own and operate these components themselves. Today, travel to and from ski resorts (perspective 3) accounts
for the greatest climate impact associated with skiing. Most often, guests travel by car, an estimated 90 percent and the resorts have been developed to accommodate this travel behaviour.
Swedish ski resorts' overall goal is fossil-free skiing with positive effects on public health, employment and circular resource usage.
Vision
It should be more climate-friendly to be in a Swedish ski resort than to be at home.
Objectives
By 2027, Swedish ski resorts will be international leaders in the ski industry's climate change mitigation. This work will focus on educating SLAO's members and also aims to inspire other parts of the hospitality industry.
Targets for the core business
• 2022: 100% renewable energy for ski lifts and snow making.
• 2025: 100% fossil-free operation of snow groomers.
• 2027: 100% fossil-free operation of ski resorts.
• After 2027 the focus will be on contributing to fossil- free operations within perspectives 2 and 3.
Targets for ancillary businesses and transport

• Enable fossil-free ancillary services through knowledge of procurement, increased circularity, changed behaviours, better waste management and labelling/certification.
• Enable fossil-free Swedish ski tourism by 2030 through analysis of transport, influencing concerned parties to follow through on their roadmaps, etc.
• After 2027, work will primarily involve influencing others.
Obstacles and possible actions for achieving fossil-free skiing in Sweden, including direct and indirect impact of the industry.
Snow groomers can already run on fossil-free biofuels, however, that is not yet the case for snowmobiles.
Electric snowmobiles are gradually being introduced into the market. Availability of bio-fuels is an obstacle, as is access to capital for investments in new technology, for smaller resorts. The transition also involves overcoming knowledge barriers and stimulating changes in behaviour.
Industry actions for core business
SLAO trains 1,000 individuals every year. Sustainability is intensifying as a driver for change. Knowledge of snow storage techniques is a priority as is eco-driving etc.
A switch to bio-fuels in snow groomers is underway, as is collaboration with suppliers for testing electric snowmobiles.
The industry's activities for energy efficiency and conversion to renewable energy include:
• Encouraging members to switch to 100 percent renewable electricity for snow making and ski lift operation.
• Sharing knowledge about optimal snow distribution.
• Sharing knowledge of the opportunities of using micro-grids.
• Providing energy audits.
• Sharing best practice in a structured way.
• Offering supporting documentation for procurements.
• Mapping out and implementing potential eco-labels/
certifications for ski resort operations.
Industry actions for ancillary businesses
In perspective 2, ski resorts can often set requirements via procurements. Therefore, their knowledge of procurement as a tool needs to increase. This includes investigating how to improve the provision of electricity and renewable fuels for visitors' vehicles in the resorts.
Expansion of charging stations at ski resorts and information to guests about sustainable accommodation packages and travel options are examples of activities in the coming years.
In order to switch to fossil-free travel together with visitors and other parties, knowledge about travel patterns needs to increase and a better adapted infrastructure needs to be built.
The ski industry's activities in the transport area (perspective
3) largely involve influencing.
Secure well-functioning markets for bio-fuels.
• Continued tax exemption for fossil-free fuels
• More stringent obligations to reduce greenhouse gas emissions
• Bio-fuels included in all public procurement
Expand solar energy. Invest in targeted subsidies.
Stimulate rapid technology shifts through targeted subsidies, e.g. for electric snowmobiles.
Assign the responsible authority a mandate to create a centre of excellence for research and development of climate change and snow storage.
Assign the appropriate authority the task of investigating travel patterns and climate change mitigation potential of the winter hospitality industry.
Develop the structure for fast EV charging along major roads.
Double the night train capacity by 2025.
Review the role of public transport in the hospitality industry.
Strengthen domestic tourism through an expanded assignment to Visit Sweden.
Allow the strategy of the hospitality industry to show Sweden as a pioneering country for climate initiatives and travel.
Process owner: The Swedish Ski Areas Industry Association
Published: 2020
Contact
Titti Rodling
Svenska Skidanläggningars Organisation, SLAO
2027: Fossil-free ski resorts