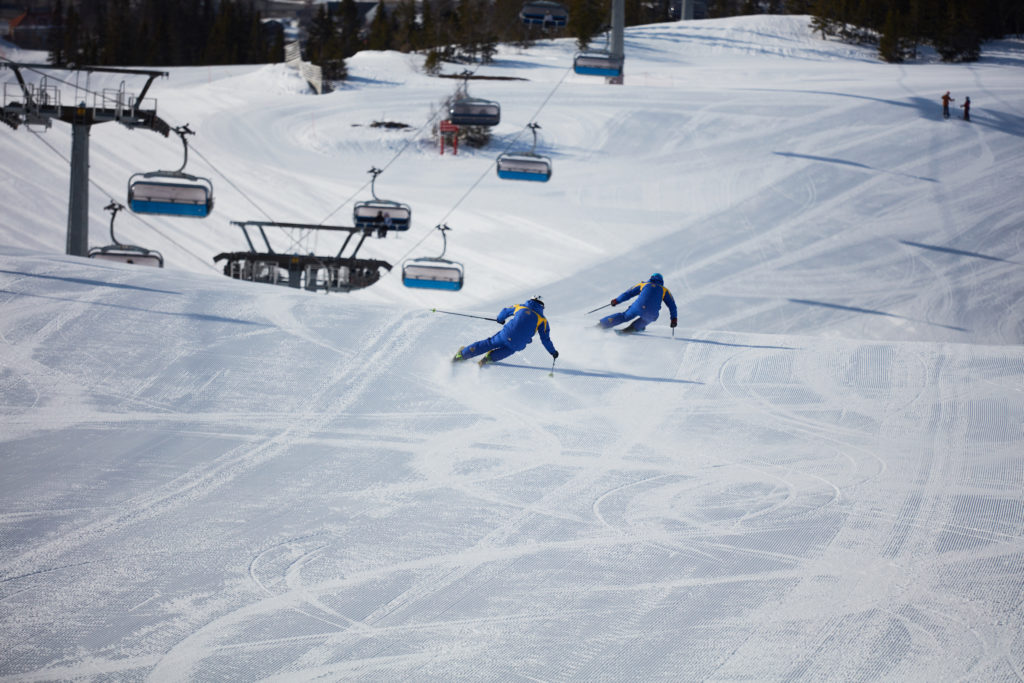 Ski resorts are part of the tourism industry and the economic engine in many communities, especially in sparsely populated areas. Between 2018 and 2020, the calculated greenhouse gas emissions from core activities (operating lifts and pistes) fell by 38 percent, from 12,000 to 7,500 tonnes of CO2-eq, as a result of switching to renewable fuel. The greatest climate impact comes from tourists' journeys to and from the resorts, and the sector is working to make it easier for journeys to become fossil free.
Targets in roadmap
2022: 100% renewable electricity for ski-lifts and snow manufacture.
2025: 100% fossil-free operation of snow groomers.
2027: Fossil-free operations of ski resorts.
To implement the roadmap, the industry is working on:
continued investments in biofuel.
introducing electric snowmobiles.
greater awareness in procurement and purchasing, e.g. electricity contracts.
recycling materials, spare parts, etc.
charging infrastructure for journeys and encouraging public transport.
The Swedish Ski Areas Industry Association, SLAO, is responsible for the process of implementing the roadmap. They have produced an industry-wide reporting and evaluation system aimed at obtaining concrete measurement figures for goals, priorities and follow-up for individual members and the industry as a whole.
Progress since the roadmap was launched
Increased use of biofuel in snow groomers
Since 2018, emissions from the core operations of Sweden's 200 ski resorts have fallen by 38 percent, a reduction that has continued in 2021, mainly due to more resorts switching to biodiesel in their snow groomers. Hydrogen-powered snow groomers are also being tested in the Alps.
Electrification reaching the slopes
The first completely electric snow groomer was tested in Sweden. The first electric snowmobiles are now being tested at Swedish ski resorts and more have been ordered and are under production. The schedule has been delayed somewhat by the pandemic but it is hoped that more will be in place for the winter season 2021/2022.
More efficient snow management
Research and exchanging experiences of snow storage and snow manufacture are in progress. Technology is developing fast, with the focus on resource efficiency. The issues include measuring snow depth, better snow manufacturing systems and snow storage that means snow can be saved from year to year.
Work on charging infrastructure in progress
In 2021, the Swedish Transport Administration awarded a number of grants for public rapid charging points along the mountain chain in inland Norrland. Many ski resorts are supplementing this with chargers for their guests and at eight of the largest ski resorts, the number of charging points is increasing this year from 86 to 209.
Digital training package launched
In autumn 2021 all Swedish ski resorts will be able to access training courses on sustainability tailored to the sector. Several of the major ski resorts will be running these for all their staff.
Industry challenges
Electrification of transport is utterly crucial to shrink the climate footprint from tourists' travel. However, the charging infrastructure is lagging behind in the sparsely populated areas in which many ski resorts are located. The issue that traffic flow and visitor frequency are unevenly distributed over the year poses a particular challenge.
Because there is a lack of rail infrastructure to many of the ski resorts and access to public transport is often limited, guests are often dependent on cars at their destinations. Local public transport is crucial to being able to offer public transport to ski resorts and local ski slopes in sparsely populated areas and local communities. For visitors travelling long distances, the frequency of trains and investments in track to Sweden's mountain regions is pivotal.
Process owner: The Swedish Ski Areas Industry Association
Published: 2020
Contact
Titti Rodling
Svenska Skidanläggningars Organisation, SLAO