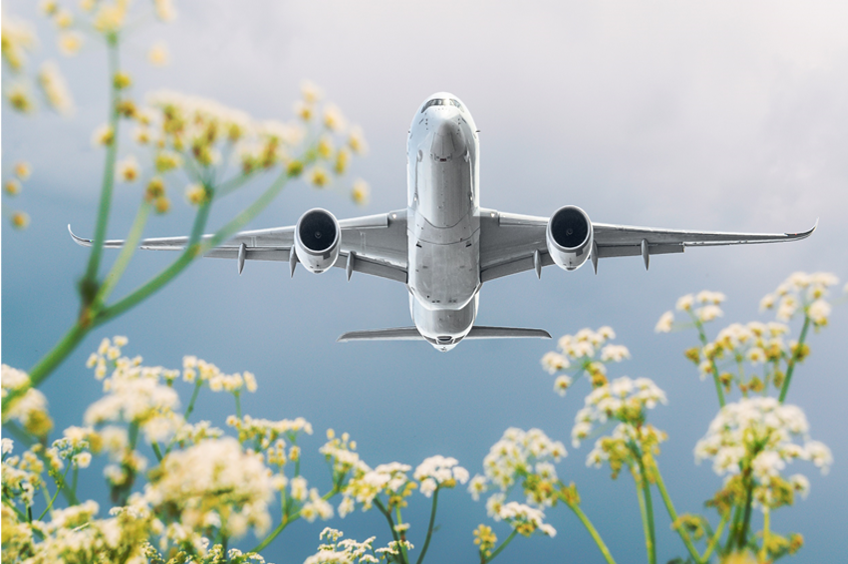 Aviation is an important part of the national and international transport infrastructure for people and goods. In 2019, aviation accounted for approximately five percent of Sweden's greenhouse gas emissions, with domestic flights making up a fifth of this and foreign flights four fifths.
Targets in roadmap
2030: Domestic flights to be fossil free (CO2 emissions from aviation equivalent to domestic flights to be eliminated).
2045: Domestic and foreign flights to be fossil free (all flights starting at Swedish airports to be fossil free and thus not to refuel with fossil fuel).
To implement the roadmap, the industry is working on:
improving the energy efficiency of planes, in airspace and at airports.
fossil free liquid fuels.
hydrogen and electrification.
The Swedish Air Transport Society is responsible for the process of following up the roadmap, which has also given rise to a number of collaborative projects. One such project is the innovation cluster Fossil Free Aviation 2045, which has produced the report "The route to fossil free aviation 2045", a more detailed and broader analysis of how the targets in the roadmap are to be attained.
Progress since the roadmap was launched
The Perfect Flight
In 2019 "The Perfect Flight" flew between Halmstad and Stockholm as a direct effect of the roadmap. The aim was to show how much emissions can be reduced using existing technology within current regulations. The flight's emissions were 46 percent lower per passenger km compared with an ordinary flight.
Procurement of fossil-free aviation fuel
Swedavia and a number of regional airports and municipalities have procured fossil-free aviation fuel to meet the needs of their own business travel. The amount of fossil-free fuel procured replaced an equivalent amount of fossil fuel. Determined efforts to invite other actors to join in coordinated procurement of fossil-free aviation fuel has led to a number of companies and organisations receiving help in reducing their climate impact from business travel.
Reduction obligation introduced
The reduction obligation for aviation was introduced in 2021 with the aim of producing at least a 27 percent cut in CO2 emissions by 2030. A number of airlines operating in Sweden have also made it possible for passengers to purchase fossil-free fuel, so reducing their own emissions by up to 80 percent.
Investments in hydrogen flight and electrification
A number of investments in planes, powertrains and energy supply have seen Sweden taking the lead in developing and implementing the technology. One of the most powerful electricity supplies in the world for electrified aviation is based at a Swedish airport.
Industry challenges
There is a need for a functioning market for fossil-free fuel and for large-scale production capacity based on waste flows, including from the forest and pulp industry to switch to fossil-free aviation. This will demand financial mechanisms in place to limit the risk to those who invest at an early stage, plus business models capable of handling demand and willingness to pay. The increasing levels of the reduction obligation post-2025 demand significant investment in the immediate future.
Attaining the target of fossil-free aviation by 2045 will require developments in technology as well as in legislation, regulation, risk management and business development. This will require broad-based collaboration with the forest industry, fuel producers, finance bodies, research and politicians. On top of this, aviation is a global industry where legislation and competition questions need to be addressed in an international context.
Process owner: Swedish Air Transport Society
Published: 2018
Contact
Dag Waldenström
Swedish Air Transport Society