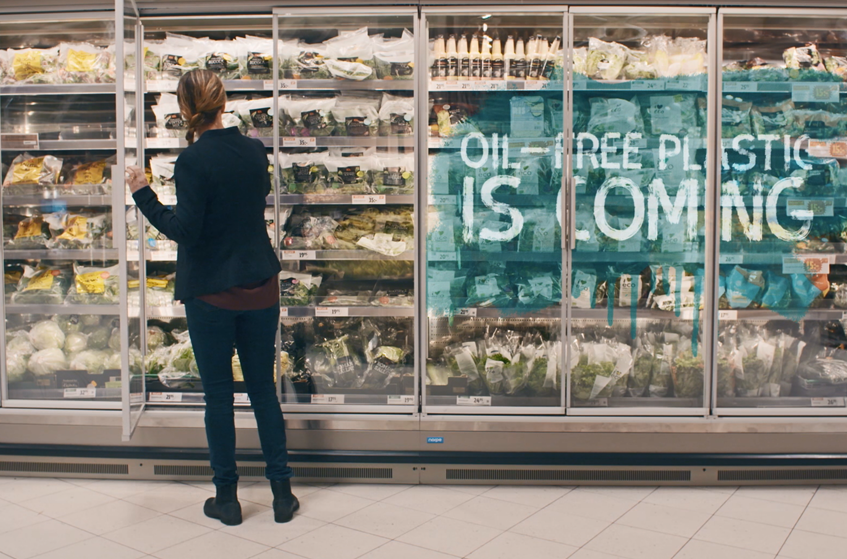 In May 2019 the plastic sorting plant in Motala came into operation.
Differentiated packaging fees were introduced on 1 April 2019.
The companies have carried out current status analyses of the proportion of plastic packaging that is recyclable and are working gradually to increase the percentage of recyclable packaging and increase the percentage of recycled and renewable material.
In the category of plastic carrier bags, the food retail sector is already very close to the 2030 target of recycled and/or renewable raw materials.
Worked actively to increase the sales and recycled value of recovered plastics.
The Swedish Food Retailers Federation (Svensk Dagligvaruhandel, SvDH) has drawn up this roadmap within the framework of the government's Fossil Free Sweden initiative. The SvDH Roadmap was submitted to the government in April 2018.


The theme we have chosen for our roadmap is plastic consumer packaging.
Because it extends the shelf-life of many foods and helps to reduce food waste, plastic is one of the most commonly used packaging materials for consumer food products. But using plastic in packaging materials also presents big challenges, since the raw materials used to make most plastics are fossil-based and the resulting packaging material has one of the lowest material recycling rates in Sweden.
Rough estimates suggest that only 25 percent of the plastic packaging collected for recycling actually makes its way into new plastic products. One of the reasons for this is that the primary consideration has been protecting the food product and making it appealing from a consumer viewpoint rather than focus on the recyclability of the materials used in packaging.
There has, in addition, not been a demand for the recycled plastic, and it has been difficult to find ways to dispose of it.
We want to change this, and the purpose of this roadmap is to help to pave the way for increased recycling and a transition to plastic packaging made from renewable or recycled raw materials. The roadmap is thus part of our contribution to a circular economy and fossil free society.
Our goal is for all plastic packaging to be recyclable by 2022, and all plastic packages to be produced from renewable or recycled raw materials by 2030.
We are aware that, based on today's requirements and conditions, this is a very challenging goal. The food retail industry is up for the challenge and will do everything it can to attain its goal and vision.
To succeed, however, we require a clear commitment from our politicians and long-term decisions that help to increase recycling and stimulate a demand for recycled materials, and clear incentives to develop domestic production of renewable plastic raw materials.
The measures that we will take in the food retail industry to reach this goal include:
Investment in a new plastic sorting plant. The food retail and plastics industries are together investing a total of 260 million SEK in a new sorting plant that will be the most modern plant of its kind in Europe, with the capacity to cover all of Sweden's plastic package recycling needs.
Introduction of cost-based fees for packaging based on the packaging's recyclability. There is at present no economic incentive for producers to use recyclable packaging. We therefore plan, on our own initiative, to introduce a tiered system for packaging fees starting in 2019. Non-recyclable packaging costs more to handle and will therefore also be charged a higher fee.
Analysis of the current situation and investigation of the amount of packaging that is currently recyclable. We will then work to successively increase this amount. This work will occur in close cooperation with the plastics industry and packaging producers. We will also work to increase the demand for recycled plastic materials.
Three important measures we would like to see from our politicians:
A clear expression of political will in the form of support for innovative research projects and strategic investments aimed at increasing recycling and stimulating a demand for recycled plastic materials.
Economic incentives to promote a successive increase in the use of renewable and recycled plastics. It has to be economically viable to use renewable and recycled raw materials rather than virgin, fossil-based raw materials. This could be achieved, for example, through state aid for the production of renewable raw materials.
Broad agreements across political party lines on policy are needed to increase predictability for all actors, such as a long-term approach to producer responsibility.
Process owner: The Swedish Food Retailers´ Federation
Published: 2018
Contact
Filip Ekander
The Swedish Food Retailers´ Federation