Fossil Free Sweden is working to increase the pace of the climate transition. The goal is to build a strong industrial sector and to create more jobs and export opportunities by going fossil free.
Fossil Free Sweden was started at the initiative of the Swedish Government in 2015 ahead of the major UN climate conference in Paris and brings together actors in the form of companies, municipalities, regions and organisations that give their backing to the declaration that Sweden will be one of the first fossil free nations in the world.
The initiative is run by an office headed by a national coordinator. By working with companies, industries, municipalities and regions, Fossil Free Sweden is identifying obstacles and opportunities in order to accelerate developments. On that basis, Fossil Free Sweden produces political proposals that are presented to the Government and brings together actors to implement measures.
Fossil Free Sweden has a unique role between the business sector and politics, in the form of various ministries and Riksdag parties, in finding common ways ahead so as to speed up the transition to a fossil free welfare nation.
22 business sectors have produced roadmaps for fossil-free competitiveness within the frame work of Fossil Free Sweden. The roadmaps contain both commitments and political proposals. Fossil Free Sweden works to make the implementation of the roadmaps possible and are also developing strategies around different areas to speed up the transition.
Svante Axelsson was appointed National Coordinator of Fossil Free Sweden by the Government in 2016. He is an agronomist and was previously Secretary-General of the Swedish Society for Nature Conservation.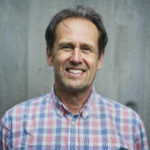 How will Sweden reach its climate target and be climate neutral in 2045?
Through new technology, renewable energy, improvements of energy efficiency and behavioural change. The challenge today is not primarily technical or economic but is that people in Sweden have to understand that, in most cases, being fossil free also increases quality of life and well-being in society. Companies that are important for Sweden like SSAB, LKAB, Preem and Volvo Cars must go fossil free relatively quickly to cope with their international competition. This is a conclusion that surprises many today. If we do not succeed in implementing this gigantic transformation of society in a fair way that benefits people living everywhere in the country, other countries will not want to follow our path and then the global benefit will be very limited. Striking this balance will probably require closer cooperation between the business sector and the State. That is one of the challenges.
What is the role of Fossil Free Sweden?
– We have contributed to a new type of dialogue in which the business sector asks the State to create conditions to enable the sector to speed up the sector's transition. The roadmaps also give us a helicopter perspective that makes it possible to identify the key areas that need to be addressed in order to be able to reduce emissions more rapidly. Our method is to bring out the broad agreement often found between different actors on important issues so as to also be able to speed up important reforms in the Riksdag.