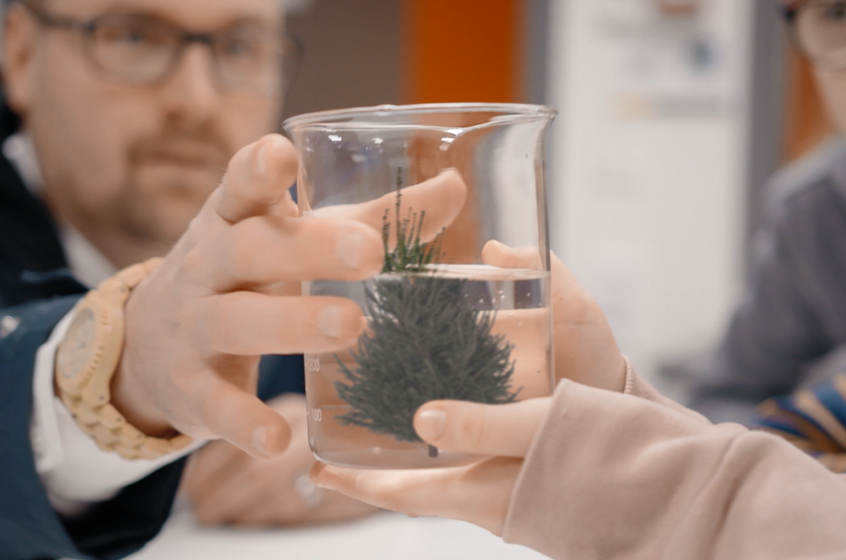 The forest sector contributes to the transition to a fossil-free society in that bio-based products are able to replace fossil-based ones. The forest sector's industrial processes are already 95 percent fossil free. The roadmap shows how the industry can contribute to the climate transition of society, both by increasing deliveries of fossil-free products, which creates climate benefit, and by phasing fossil fuel out of their own processes.
Targets in roadmap
2030: Market for wood products has increased, at least 50% of all newbuild homes are wood-framed.
2030: Higher investment from industry and society in research, innovation and demonstration facilities.
2030: No fossil fuels used in machinery in the forest industry or in forestry.
2045: Increase in the total climate benefit of the forest sector and its contribution to a fossil-free society.
To implement the roadmap, the industry is working on:
creating climate benefit through increased deliveries of bio-based products able to replace fossil-based ones.
binding carbon in products and in the forest itself.
cutting their own use of fossil energy in machinery, transport and industrial processes.
The Swedish Forest Industries Federation is responsible for the roadmap process.
Progress since the roadmap was launched
Building in wood – more wood-framed buildings being built
The number of wood-framed apartment blocks being built has increased from 14 to 20 percent since 2018, and other buildings are also increasingly being built with a wood frame. For example, September 2021 saw the opening of the Sara Cultural Centre in Skellefteå, which is one of the tallest wooden buildings in the world.
Wood is replacing fossil sources in new and traditional areas
The sector is developing several bio-based products such as packaging material, textile pulp, bio-based liquid barriers for food packaging, batteries and chemicals. The products will be easier to recycle, produce a lower carbon footprint and be suitable for industrial composting. A huge amount of resources are being put into research and innovation.
Examples of innovation investments in new and more efficient use of the forest raw material include the collaboration platform Treesearch, which has produced transparent wood, the Wallenberg Wood Science Centre, which has produced bio-based rubber from industrial waste streams, plus several investments in developing new types of biofuel, e.g. by processing sawdust.
Greater knowledge of measures to increase forest growth
In its report on new opportunities for forestry, the Swedish Forest Agency describes measures to increase forest growth. The most important are using the best possible plant material, planting, clearing and thinning in time and in the right way, and reducing browsing damage from animals such as elk and deer. The current level of damage from wildlife results in losses of between 5–7 m3 of forest per year, and the cost to society of browsing damage is estimated at SEK 7.2 billion per year.
Damage from wildlife also means a loss of biodiversity as biologically important deciduous trees such as rowan, aspen, willow and oak are browsed so that they often cannot become fully grown trees. In October 2021 the Swedish Forest Agency is launching the Smart Forestry campaign as part of the Sustainable increased growth project to ensure that the measures are put into practice.
Industry challenges
The political focus of many processes, in Sweden and at EU level, is largely geared towards preservation, with the forest in a climate context mainly being viewed as a carbon sink. This can lead to uncertainty among land owners and the forest industry, which risks leading to reduced investment in forestry and in the industry.
Rapid strides are being made in developing manufacturing processes and new materials and products, but there is a widespread lack of resources for research, development and innovation, especially regarding improving the efficiency of processes and bringing new products to market.
Process owner: The Swedish Forest Industries Federation
Published: 2018
Contact
Magnus Berg, 
The Swedish Forest Industries Federation