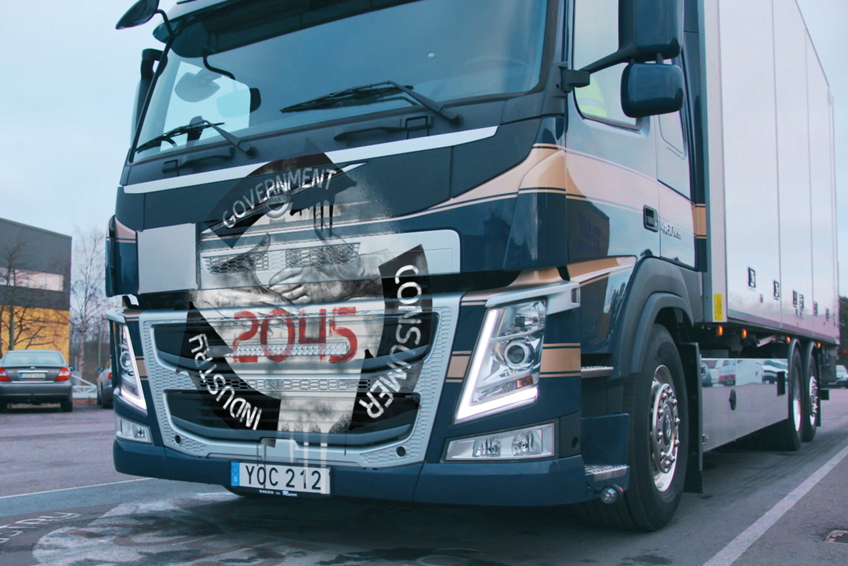 Heavy road haulage industry
The haulage industry plays a central role in enterprise and trade. Goods traffic, both heavy and light, emits the equivalent of about five million tonnes CO2-eq a year, accounting for approximately a quarter of emissions in the transport sector.
Targets in roadmap
2030: 70% lower emissions from heavy goods traffic in Sweden (compared with 2010).
2045: Domestic lorry transport completely fossil-free.
To implement the roadmap, the industry is mainly working on:
Sustainable transport businesses. Haulage firms and customers working together to reduce the climate footprint of transport.   
Fossil-free fuel. Fuel choices adapted to the resective transport booking.
Technological development. Minimising energy consumption and emissions through more efficient vehicles and technical aids.    
Improving transport efficiency. Carrying as large a load as possible and driving as efficiently as possible, both in terms of choice of route and driving methods.
The Swedish Association of Road Transport Companies is responsible for the roadmap process.
Progress since the roadmap was launched
Growing proportion of renewables
More and more haulage firms are currently switching to renewable fuel and there is also a growing interest in new technologies such as gas and electricity. Consumer-oriented businesses are often making far-reaching demands for transport with a low climate footprint. Some examples of companies ahead of the curve on the transition to fossil free operation are Ernst Express, which using HVO, RME and ED95 is now in principle fossil free, Alfredssons Transporter which was early to invest in liquid biogas, and Tommy Nordbergh åkeri, which ordered the first mass-produced electric lorry in Europe.
Heavier vehicles have cut emissions
A number of haulage companies have taken heavier goods vehicles into operation in the part of the road network that has been opened to transport with vehicles of more than 74 tonnes. This reduces the climate impact of this transport by about ten percent per transported tonne, and increases road safety due to fewer lorries on the roads.
Fair transport has been developed to become the sustainability certification for the haulage industry
All certified companies meet the requirements and criteria set to ensure that transport is responsible, road safety and climate-aware, and this is followed up on an ongoing basis via an independent third-party audit.
Industry challenges
Using heavier vehicles of up to 74 tonnes and up to 34.5 metres in length would facilitate more energy-efficient transport and both benefit the climate and cut costs. The current regulations do not allow such long vehicles and only a very limited part of the road network is approved for very heavy transport.
Attaining the climate target for domestic transport depends on access to biofuel. Today the opportunity to fill up with fossil-free fuel is limited in much of Sweden and the tax exemption for liquid biofuel does not provide the long-term conditions required, creating uncertainty regarding future availability and inhibiting willingness to invest in new technology.
Demand for electric lorries is currently limited by the high purchase price but also by the fact that at the moment there is not a sufficiently expanded charging infrastructure that meets the logistics needs of haulage firms on prioritised roads or at terminals.
Process owner: The Swedish Association of Road Transport Companies
Published: 2018
Contact
Fredrik Svensson
The Swedish Association of Road Transport Companies