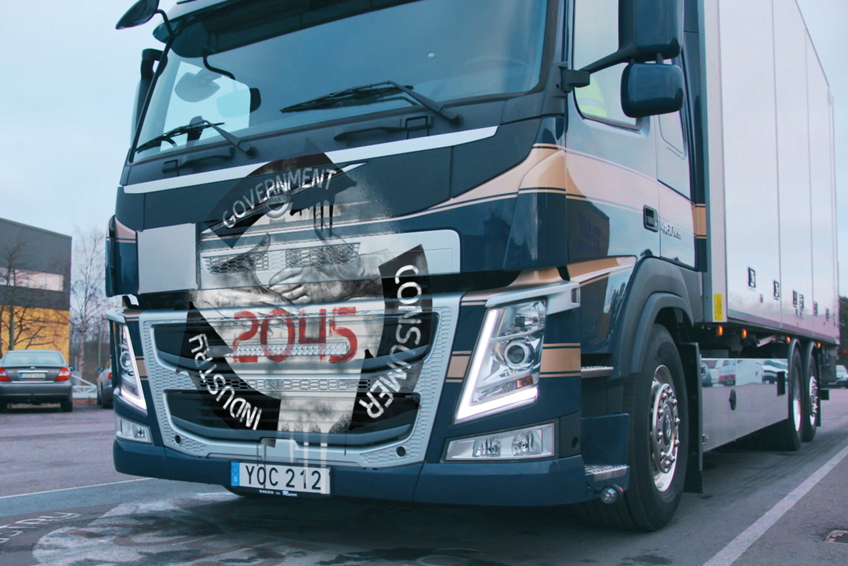 The heavy road haulage industry
A number of major transport buyers are looking for better and more transparent emission data.
A number of major transport buyers are taking steps to make logistics more efficient.
A governemntal committe for Electrification of transports has been established.
Investments in biogas: 32 companies have applied for and received support for a total of 159 heavy goods vehicles.
Road haulage is integral to trade, construction and industry throughout Sweden. Important measures to reduce emissions include the scaling up of renewable fuels, optimising routes and increasing the load per driven distance. In recent years, reductions in greenhouse gas emissions from heavy duty vehicles have been entirely due to renewable fuels.
A survey conducted in March 2018 shows that the primary driving forces behind companies working to reduce emissions include customer demand, cost reduction and an ambition to contribute to fighting global warming.


Heavy duty vehicles transport as much as two thirds of total freight in Sweden. Road transport routes are typically short: almost 80 percent of total tonne kilometres is for distances shorter than 500 kilometres.
The road haulage industry is heterogenic, and can broadly be divided into long-distance transport, construction, distribution and waste transport. In 2016, the most common freight categories were ore and other extraction products, parcels and waste products.
In reducing emissions, the challenge and the solution lie in the heavy dependency on diesel. Some 97.5 percent of heavy lorries are driven on diesel. HVO (hydrated vegetable oil), a synthetic renewable diesel, requires no change in engines or infrastructure. Its surge accounts for emission reductions of 25 percent between 2010 and 2016, despite an increase in tonne kilometres.
In addition to emission reductions achieved by renewable diesel, road haulage companies reduce emissions by increasing loads per driven kilometre, practising eco-driving and investing in new and more efficient vehicles. The potential for reductions by such measures is not quantified in this road map.
The conditions for working to decarbonise road transport in Sweden are in place. The political will has ensured the long-term goals and policy. Research and innovations in vehicle technology are available, and higher weights and dimensions enable more efficient transport.
The potential for scaling up production of biodiesel and other renewable fuels is evident. The challenge lies in the fact that demand for decarbonised road transport is not aligned with the willingness on the part of transport buyers to invest in this.
Cost structures across the European Union vary greatly and Swedish haulage companies are in direct competition with companies with up to 60 percent lower costs. Thus, establishing quality competition and increasing incentives for emission reductions is an important change that must take place to facilitate the greening of road transport. New business models and possibilities lead to climate-focused public procurements and transport commissions.
Below are some of the different pathways that will transform the road haulage sector:
Effective logistics
ITS, intelligent transport systems
High capacity vehicles
Flexible time schedules rather than just in time
Energy
Biodiesel
Biogas
Ethanol
Electrified roads
Electric vehicles
Competition
Quality competition
Public sector act as role model
Emission reductions as a requirement
Technology
Fuel-efficient vehicles
Emission reduction schemes like VECTO etc.
The two most prominent challenges regarding the transformation of the road haulage sector are: rapidly increasing the production of sustainable renewable fuels, and Swedish policy having little or no bearing on international hauliers, which are increasingly transporting at lower prices than Swedish hauliers.
The road haulage industry competes in the European market. Swedish climate policy has a limited bearing on foreign companies as they mostly pay taxes abroad.
The price of transport is far more important than climate efforts and Swedish hauliers cannot compete on the international market due to higher costs of labour and diesel. Fuel is one of the highest single costs for Swedish road haulage companies, which pay 13 percent more than the EU average.
Road haulage companies are prepared, adept and motivated to contribute to the climate goals. Investing in new technology and more expensive fuels is an option, but one that affects the price of the transport assign ment. The Swedish Society for Road Transport Companies is striving for the road haulage industry to be characterised by quality competition and companies living up to their responsibilities.
The biofuels development is crucial to reducing emissions. The share of biofuels, as well as the demand for it, will in 2030 depend on changes in demand for transport, vehicle efficiency, and the extent to which heavy transport is electrified. Freight transport by road is expected to increase by 1.8 percent per year between 2012 and 2040 – an increase of 39 percent between 2018 and 2040.
The roadmap identifies several policy proposals to advance the greening of road transport. This summary presents three important ones.
1. The adaption of the Paris Agreement into EU policy
Sweden needs to push for higher climate standards in EU policy, and thus ensure EU Member States' policies are aligned with the Paris Agreement so as to ensure a level playing field.
2. Biofuels
Public investment contributes to the upscaling of bio-refineries for biofuels based on lignin and lignocellulose.
Biofuels should be reserved for the essential heavy road transport sector, also indispensable from a security and defence perspective.
3. Eco-tax – a distance-based charging system
Fuel tax, only paid by those buying fuel in Sweden, is a suboptimal charging scheme. Fuel tax can be lowered to the EU-minimum level, allowing for a tax charged per distance and thus levelling out competition.
Eco-tax can be differentiated so that it incentivises the use of specific roads, vehicles and fuels.
Eco-tax should be administered automatically and safely, using GPS positioning technology.
Eco-tax should only be levied on trailers so as to ensure higher-capacity vehicles are not charged more than less efficient lighter and shorter vehicle combinations.
Process owner: The Swedish Association of Road Transport Companies
Published: 2018
Contact
Fredrik Svensson
The Swedish Association of Road Transport Companies